The LPC Mission Project
"For I was hungry and you gave me food, I was thirsty and you gave me drink, I was a stranger and you welcomed me, I was naked and you clothed me, I was sick and you visited me, I was in prison and you came to me." – Matthew 25:35-40
We follow the example of Jesus Christ, our savior, throughout our community service
Following the example of Jesus, we believe in serving our community with love and compassion, The LPC Mission Project services over 50 families in our community and beyond with basic food needs.
Due to the COVID-19 outbreak, we are serving only families that live in Linden. Our distribution dates are the 4th Friday and 4th Sunday of the month.
Would you like to volunteer your time?

Volunteering is a rewarding experience. It's a win-win for everyone. Currently, we need volunteers to help us prepare packages for recipients. The only requirements to be a volunteer is to be 18 years or older, and to have an open and giving heart. Contact the church office at (908) 486-3073.

We Welcome Your donations

We need non-perishable foods, especially cereal, peanut butter, jelly, tuna fish, crackers, canned fruit, pancake mix and syrup and powdered milk. Please check expiration dates are current prior to donation. We also welcome any monetary donations, ans well as storage space for food items. Contact the church office at (908) 486-3073.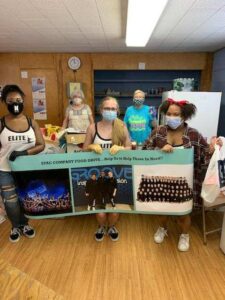 We are grateful for the donations received from the Elite Performing Arts Center in Scotch Plains, New Jersey. (Front row from EPAC: Arianna, Kimmie, and Morgan. Back row from LPC : Ann and Judy)